We are delighted to announce that the new 'Caron' mobile cancer care unit, located with our partner East Kent Hospitals University NHS Foundation Trust, is coming soon
In 2018, Hope for Tomorrow launched an appeal to raise funds for the 'rebuild' of 'Caron' our mobile cancer care unit which operates in Kent. Thanks to the generosity of funders, including grant making trusts, companies, community groups and individuals, we were able to reach our fundraising target.
A new chassis was ordered in December 2019 and the unit is now built, and fully registered, ready to be fully operational, delivering our vital outreach cancer service in an improved environment, which offers patients an even better experience.
'Caron' will make it easier for patients to access treatment nearer to their home or workplace, so the treatment doesn't dominate their lives and take away their independence. She will continue to visit Dover, Herne Bay and Deal and help patients locally who, without our support, may struggle to get to their appointments.
Hearing from patients who live in Kent and were treated on 'Caron' in 2021, they told us that, on average, for each treatment, they saved:
• 2 hours in travel time
• 17 travel miles
• £4.20 in fuel and parking costs
Last year, 'Caron' delivered nearly 2,400 patient treatments, helping nearly 800 patients.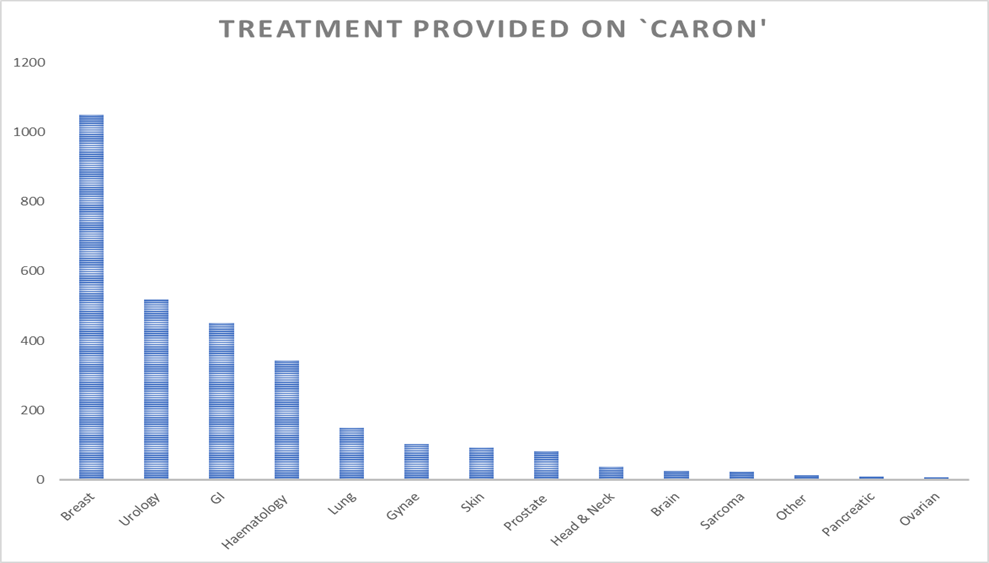 But the work of Hope for Tomorrow doesn't stop there, during the 10-year life span of `Caron', Hope for Tomorrow will continue to fund the upkeep, servicing and maintenance of Caron to help her continue driving cancer care forward in East Kent. A unit like Caron costs £212 per day to keep her on the roads. This not only delivers vital cancer treatment but also builds local support networks, providing patients with the opportunity to continue spending time saved on what's important to them, living life outside their diagnosis.
Here's what one of our East Kent patients had to say
"The treatment left me with vertigo, so I was unable to drive myself when I was being treated at the hospital. I had to rely on my husband to transport me. Being treated on the mobile unit also drastically cut down the waiting time. Visiting the unit made me less anxious, especially during COVID when I was shielding, as there weren't so many people.
"I couldn't sing Hope for Tomorrow's praises enough; being given easier access to my own medical treatment meant I had more precious time to spend with my family who also needed support. I would love to see more units available so that others can experience the benefits of receiving lifesaving treatment this way. I can't thank the nurses enough."
If you would like to help Caron and units like her continue to deliver and drive cancer care forward in communities, you can do so by
To hear more about Hope for Tomorrow's work and how you can get involved, sign up to receive our Newsletter and Fundraising events information.
A huge thank you to all our supporters for contributing to the rebuild of 'Caron', including the Mark Benevolent Fund, Caron Keating Foundation, The Bernard Sunley Charitable Foundation, Kent Community Foundation, Pink Ribbon Foundation, The Lawson Trust, The Kay Kendall Leukaemia Fund, The Roger de Haan Charitable Trust, The Albert Hunt Trust and The Edward Gostling Foundation.