A NEW WAY OF KEEPING IN TOUCH WITH TEAM HOPE
Hello Over at Team Hope HQ there's so much happening that we're sure you'd like to hear about, so we're introducing e-Newsletters. This means you can keep up to date more regularly on the difference your support is making, what events are happening and other ways you may want to get involved. We'll still send out updates in the post from time to time as well, and you can also connect with us by visiting our website or following us on social media (links at the top of this email). From everyone at Team Hope



BRISTOL MYERS SQUIBB DONATE £750,000 TO SUPPORT HOPE FOR TOMORROW ON THEIR CANCER CARE MISSION
Last year Hope for Tomorrow submitted a funding application to pharmaceutical company, Bristol Myers Squibb (BMS) and we are delighted to say that our application was successful and BMS have donated a phenomenal £750,000 to help us expand the reach of our Mobile Cancer Care Units. We have big plans for how the money will be used, funding two additional Mobile Cancer Care Units, one of which will be a very special addition to our fleet. The new units have the potential for us to expand our capacity by up to 30%. This means we could deliver an additional 6,500 cancer treatments on board a Mobile Cancer Care Unit each year. Look out for updates throughout 2021 as we unveil our plans for our Generation 3 mobile cancer care unit, the first of its kind in the world.
FIND OUT MORE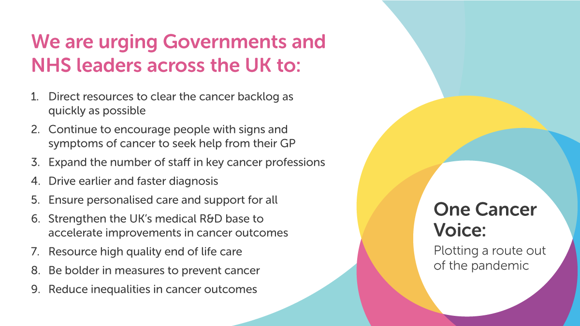 HOPE FOR TOMORROW JOINS ONE CANCER VOICE Hope for Tomorrow has joined 46 other cancer charities to communicate a united message to the governments of the UK: we are ready to work with you to help plot a route out of the pandemic, and towards world leading cancer services. One Cancer Voice has developed a manifesto on behalf of people with cancer, to recommend solutions for some of the biggest issues that the next Government will face. Hope for Tomorrow see, first hand, the impact of cancer and felt it was important to join the debate and shape the way cancer care is delivered in the future. You can read the One Cancer Voice manifesto here and read what our CEO, Tina Seymour had to say about our involvement by clicking the button below.
READ MORE ABOUT OUR COMMITMENT HERE



 

HAVE YOU COMPLETED OUR SURVEY? While you're all in the mood for filling out a survey (don't worry, ours isn't as long as the census!), we'd really appreciate it if you could spare a few minutes to complete ours. By developing a better understanding of our supporters we can fundraise more efficiently and help more cancer patients. Thank you.
 COMPLETE THE SURVEY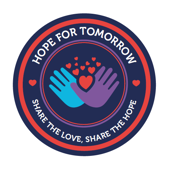 SHARE THE LOVE, SHARE THE HOPE
You can now make a donation to Hope for Tomorrow in honour of someone who has been affected by cancer, and help deliver mobile cancer care to others in their name. Once you've donated, you'll receive a card through the post which you can give to the special person you're honouring. £5 could enable a patient to receive pre-chemotherapy blood transfusion on-board one our Units £15 could help five patients receive vital oral chemotherapy treatment on-board a Unit, closer to their home  
HONOUR SOMEONE TODAY UP FOR A CHALLENGE?
Take on one of our challenge events for an unforgettable experience while you raise money to support cancer patients.
Upcoming events include: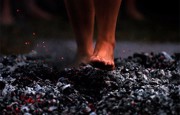 FIREWALK
21st May : Gloucestershire
FIND OUT MORE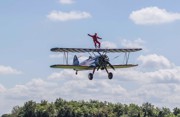 WING WALK
3rd June : Gloucestershire
FIND OUT MORE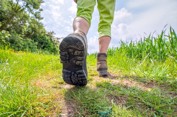 THREE PEAKS
11th September: Yorkshire
FIND OUT MORE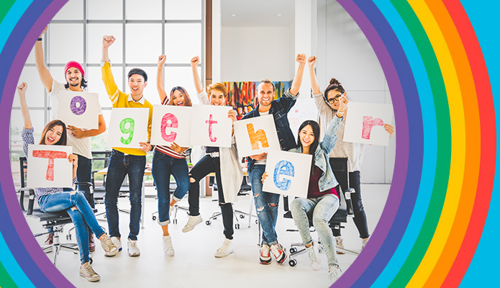 COLLECT CLOTHES FOR CANCER CARE
Recycle your unwanted clothes and help provide
mobile cancer care for patients across the country

It's as simple as it sounds. Take part in our clothes recycling challenge and make a difference for people suffering from cancer across the country. You set the rules – you can either take part on an individual basis, in small teams, or maybe you want a departmental or office competition? You set the timing too – pick whether a specific day, week or even month will work best for you. The aim of the game is to fill as many 75l black bags as possible – whoever fills the most wins! JOIN THE CLOTHES COLLECTION CHALLENGE   CHARITY PARTNER EVENT NEWS We're grateful to have been chosen as charity partners for some incredible motor racing events this season.
Read on to find out more and book your tickets.





VELOCE – THE GREATEST TRACK DAY ON EARTH V Management's Veloce festival returns to its home at Goodwood this year with an ambitious fundraising target of £200,000. Hope for Tomorrow are delighted to have been named one of the benefitting charities for another year. This year's event headliners include Damon Hill and Derek Bell who will be driving some of the rarest cars in the world. FIND OUT MORE



E-type 60 12 – 13 June 2021 Celebrating 60 years since the Launch of the E-type and the spectacular 'Swinging Sixties', this weekend will be packed with events and entertainment featuring the iconic E-type and the flamboyant styles of the 1960s.   FIND OUT MORE

HOW YOUR SUPPORT IS MAKING A DIFFERENCE:
ALISON & GAIL'S STORY
'I am truly grateful for the treatment I received, and the Hope for Tomorrow Mobile Cancer Unit is amazing for those of us who need safe treatments during the pandemic and beyond.'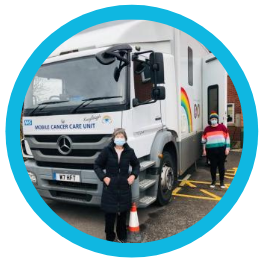 READ ALISON & GAIL'S STORY  

HOW YOU CAN HELP Hope for Tomorrow mobile cancer care units benefit thousands of cancer patients by providing them with a treatment option that removes the time, anxiety and costs they experience with hospital based appointments. We couldn't do what we do without your support. There are a variety of ways you can help us to continue on our
mission of bringing cancer care closer to home.

LEAVE A LEGACY
BE A REGULAR GIVER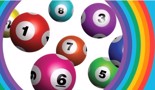 PLAY OUR LOTTERY