Suffolk residents are being encouraged to don their walking boots to raise money to bring cancer care closer to patients at the Walk of Hope.
The sponsored walk will take place on the evening of 28 April, in Sudbury, to raise funds for Hope for Tomorrow, a charity that provides mobile cancer care to communities around the county.  The walk is open to all abilities and ages – even four-legged friends – with plenty of fun to be had along the way. Walkers can choose either a 5km or 10km distance and take the walk at their own pace.
The event has been organised in partnership with Sudbury resident Ben Davies, who lost his wife Lynsey to breast cancer in 2021.
Ben, who has helped to raise more than £60,000 for Hope for Tomorrow in memory of Lynsey since her diagnosis, said: "When someone has cancer, making long trips to the hospital for treatment can be exhausting, so the Mobile Cancer Care Units (MCCU) provided by Hope for Tomorrow are a real lifeline, making the process less stressful and saving precious time.
 "Lynsey used the local MCCU, called Frisbey, for her treatment after she was diagnosed in 2017. This enabled her to carry on working in a job she adored, for the YMCA in Ipswich. It saved many hours in the day as Lynsey didn't have to travel to West Suffolk Hospital to receive the treatment."
 Ben added: "Lynsey was tragically diagnosed with secondary cancer in June 2019, which was a terminal diagnosis and despite this devastating news, she was determined to not only continue to raise money and awareness for Hope for Tomorrow, but she continued using Frisbey, which she affectionately called 'the party bus' whilst she carried on working, up until two days before she passed away. Lynsey would be delighted to know that people were raising money for Hope for Tomorrow through the Walk of Hope, so that the charity can continue to offer this vital service to other cancer patients in the county."
Between 2021 and 2022 West Suffolk NHS Foundation Trust delivered more than 2,000 treatments to patients in Suffolk on the Hope for Tomorrow mobile unit.
Karen McKinnon, senior operating manager and lead cancer nurse at West Suffolk NHS Foundation Trust said: "We really want to thank Ben for all the fundraising he has done to help support Hope for Tomorrow and to keep Lyndsey's legacy alive. Mobile cancer care units such as Frisbey are crucial to those with a cancer diagnosis as it gives them flexibility and independence in very difficult circumstances. We hope that lots of people across the county decide to don their walking boots and help raise money that will go a long way in changing people's lives."
The Walk of Hope, which is sponsored by Perrywood Garden Centre, will start at local football club AFC Sudbury where Lynsey and Ben volunteered for many years and operated the turnstiles that are now named in honour of Lynsey. From there the walk will take participants into the town centre and on to the Horse and Groom pub, which will host a fun-filled pit-stop.
Darren Theobold, one of Ben's best friends, added: "The idea of the walk came from my wife Mandy, who was very close to Lynsey. We both really hope to be able to make this a great event and raise plenty of funds for the party bus. The event will have a real party atmosphere all the way around, so please do come and join us."
For those on the 10km walk, the route will continue up Constitution Hill and out into the suburbs, heading back into Sudbury town centre to join up again with fellow 5km walkers as they head back to AFC Sudbury for the finish party.
Registration opens between 6.30-7pm, and the walk will begin from 8pm. On the night, walkers will receive a complimentary neon Hope for Tomorrow – Walk of Hope t-shirt to wear.
There is a registration fee of £30 for the walk, which includes your free t-shirt. To sign-up visit https://hopefortomorrow.org.uk/walkofhope/ and leave details of your t-shirt size and if you are bringing a dog at the check-out.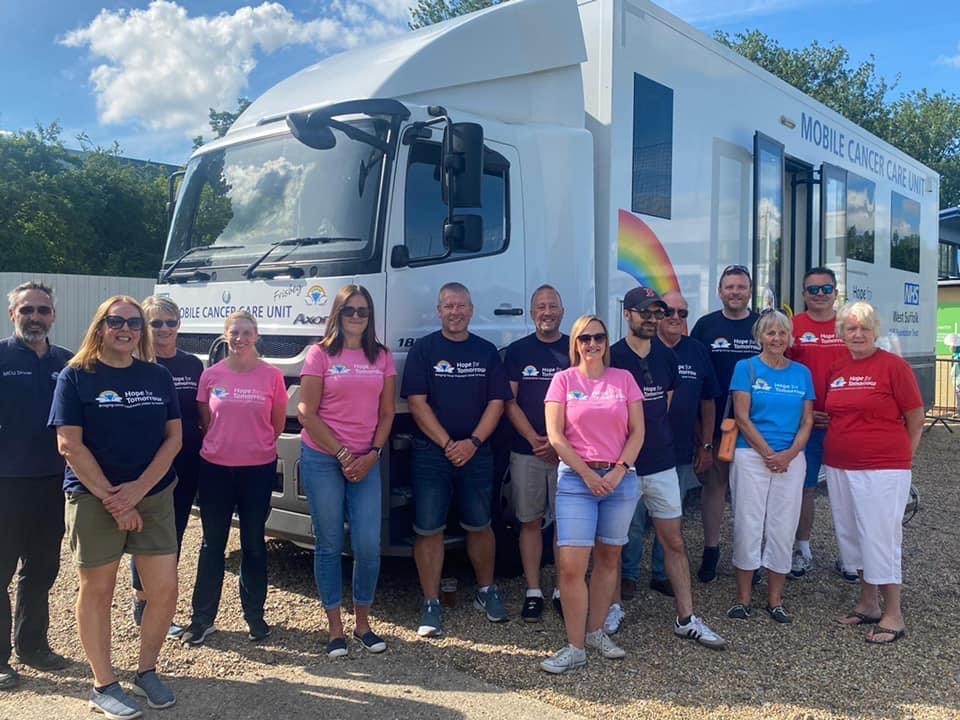 Lynsey's family and friends with the local mobile cancer care unit Frisbey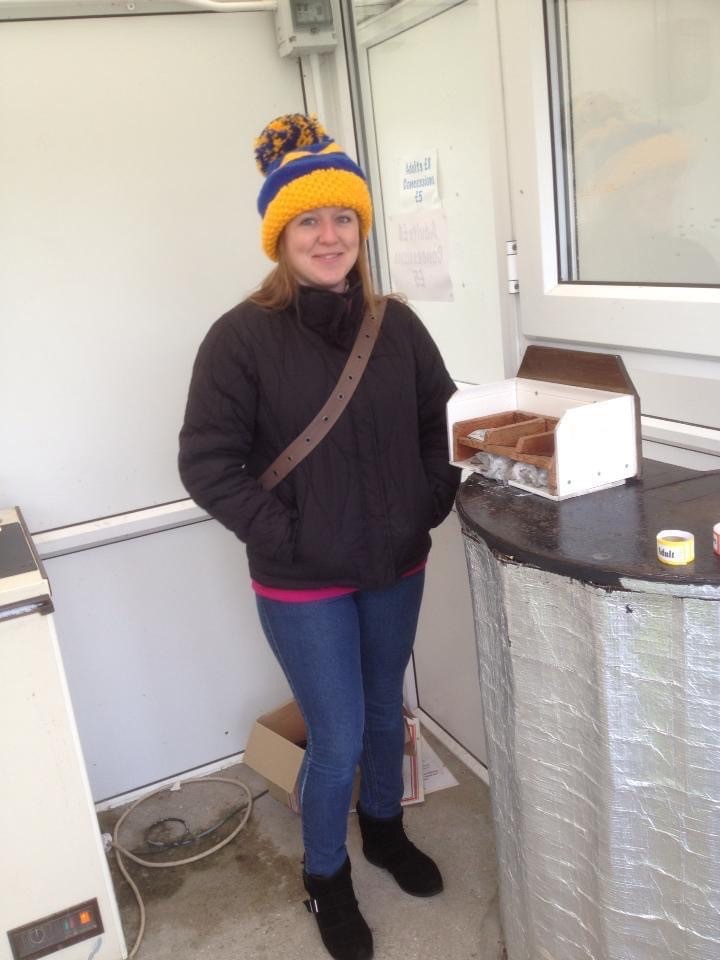 Lynsey in the turnstile booth at AFC Sudbury wearing a woolly AFC Sudbury bobble hat her mum had made her!